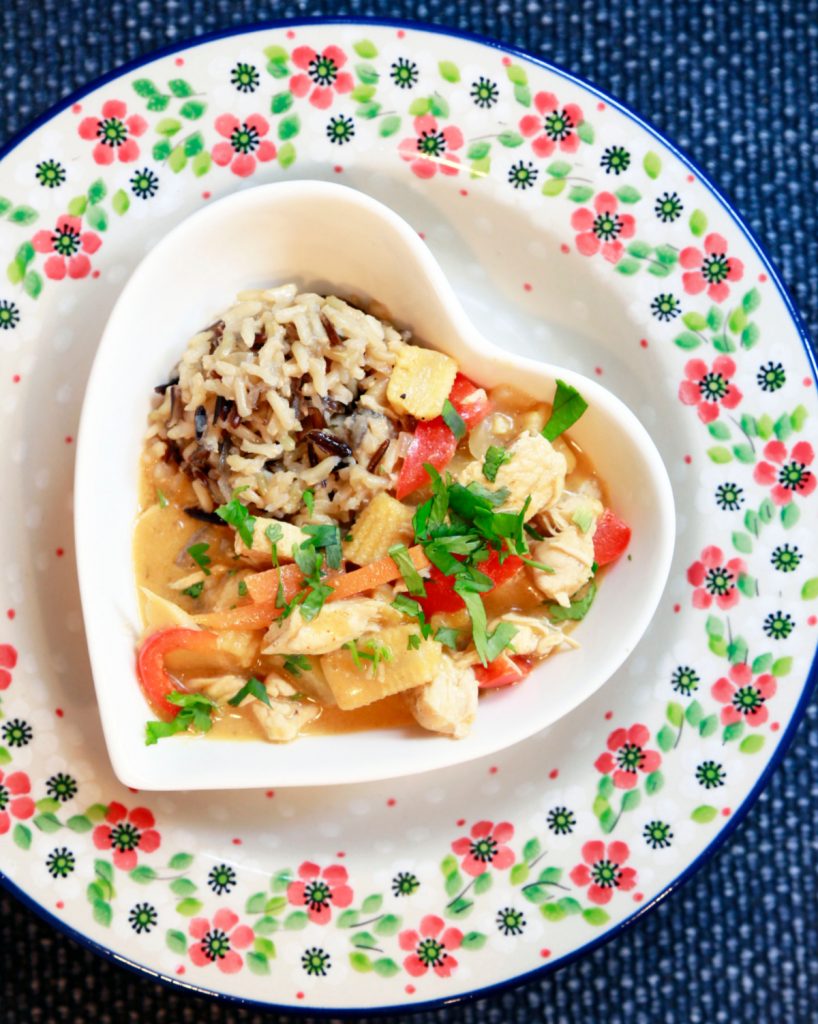 Have you ever gone into a Thai place and been completely baffled by the menu? In a good way I mean. I personally did not grow up experiencing any kind of ethnic food so it's taken me some time to appreciate the variety that life has to offer. Curry has been one such learning curve for me. It may sound odd but it seems so intimidating.
So I have this friend in Las Vegas and every time we go to lunch at this great little Thai place she orders the pineapple curry. I am always intrigued but I always go with my favorite dish which is the cashew chicken. Also very delicious.
Speaking of Cashew, I did not include it on the recipe. We don't normally eat them. Odd huh since I love cashew chicken. It's a dietary choice and yes, I miss them. You shouldn't have to though. Consider adding half a cup at the end (like when you add the cilantro garnish).
Depending on how you want this dish, more of a soup or thicker, you may or may not want rice with it. I know a white rice is traditional but again, we don't eat it much but I did settle on a brown Basmati which was great.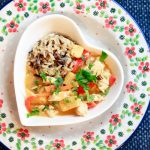 Pineapple Chicken Curry
Ingredients
4

tsp

Red Curry Paste

1 1/2

tsp

Curry Powder

1

Tbsp

Fresh Ginger, Minced or Grated

3

Cloves

Garlic, Minced

1/2

Cup

Muddled Fresh Pineapple

1/2

Cup

Baby Corn

1

Can

Bamboo Shoots

8oz

1 1/2

Cup

Diced Pineapple

Use Fresh if possible

1

Bell Pepper Diced

Any is fine, we used red

1/2

Onion, sliced

2

Cans

Coconut Milk

13.5oz Read Notes on this

Cilantro for Garnish

1/2

tsp

Salt

Thickening Slurry

Read notes on this

1 1/2

Pounds

Chicken Breast cut into thin slices or strips

2

Tbsp

Oil

1/2

Cup

Carrots, Sliced thin
Instructions
This dish starts by heating the oil in the pan and adding the chicken. Cook on medium heat until cooked through. You are not trying to carmelize the chicken.

Add the Garlic, Ginger, Curry Powder, and Curry Paste and mix through. Remove the chicken to a plate and put to the side.

Add another Tbsp of oil to the pan and add your steamed carrots, onions and bell pepper. Cook, stirring often until they become soft.

Add the chicken back in and then add the baby corn, bamboo shoots and chopped pineapple, cook another 1-2 minutes.

Add coconut milk, mashed pineapple/juice and mix to combine everything. Simmer for 10 minutes.

If you want to thicken this recipe, add in a slurry (a few Tbsp of coconut milk or even the liquid from the pan with 1 1/2 tsp cornstarch or arrowroot powder.
Recipe Notes
There are a few schools of thought on this dish. Some light it more like a soup and some like a thicker heartier dish. I chose to make it more like a thicker dish. This is where you need to be aware of the coconut milk. If you have used coconut milk in the past you know that it separates. The cream is usually on top and the liquid on the bottom. You will use one whole can in this recipe and then for the second can, just add the cream if you want it thicker or add the cream AND liquid if you want it thinner and more like soup. 
If you like this thicker and it is not reaching that desired thickness for you, create a slurry using a little bit of the coconut milk and a teaspoon and a half of arrowroot powder or cornstarch. Whisk in and let simmer for 3-5 minutes.