I like peanut butter. I like crunchy stuff. I like chocolate. Combine all three and I am one happy girl. This recipe came about from a memory I have that is probably first grade. We made these peanut butter balls (no cooking involved) that we rolled with our hands and then rolled in sprinkles. I don't remember what was in them other than peanut butter and sugar but the memory of the taste combined with the crunch of the sprinkles stuck with me. Fast forward a few years (OK maybe a few decades) and I decided that I needed a peanut butter cookie in my arsenal but I wanted something unique. Something different. This is the result. The key here is NOT to overcook them. They are supposed to have an uncooked feel to them. If you don't believe me, cook one longer and see the difference for yourself.
The crunch comes from the large colored sugar on the outside. Don't use chunky peanut butter. It's not nice.
I would suggest you chill the dough before using. While you don't have to, it will be less messy when you go to roll them in your hands. As you can see from the pictures, we used chocolate chips which means these are very small. They are basically one bite cookies. Yeah it's more of a hassle but I love all things in miniature form. It just tastes better.
I waited until they were out of the oven to add the chocolate chip. If you let them cool too much they will crack a little when you do this. I personally don't mind this, they all eat the same.
I recently did a larger version of these for Halloween with a chocolate spider on top. Super cute.
Finally, if you are curious about the polish pottery in the pictures, we have that available too.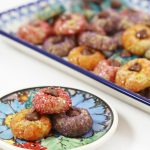 Crunchy Peanut Butter Cookies
Ingredients
3/4

cup

Creamy Honey Peanut Butter

1/2

cup

Butter

1/3

cup

Sugar

1/3

cup

Light Brown Sugar

Packed

1

Egg

Room Temp Preferred

3

tbsp

Milk

1

tsp

Vanilla Extract

1 1/2

cup

All purpose flour

1/2

tsp

Baking Soda

1/2

tsp

Salt

Colored Sugar

For Rolling

Dark Chocolate Chips
Instructions
Preheat the oven to 350 degrees

Using a mixer, blend together the butter and peanut butter for 30 seconds

Add both sugars and mix for another 30 seconds

Add the egg, milk and vanilla and blend for another 30 seconds

In two batches add the flour, baking soda and salt. Using a spatula, mix until just blended through

Ideally you should chill the dough for at least two hours

Roll each cookie (approx 1 teaspoon of batter) in your palm and then place in a bowl of colored sugar. Carefully roll it around until coated and transfer to a parchment paper lined cookie sheet. If you happen to be using polish pottery, skip the parchment. No need to use non stick spray either

Remove from the oven and add a chocolate chip to the center of each cookie immediately