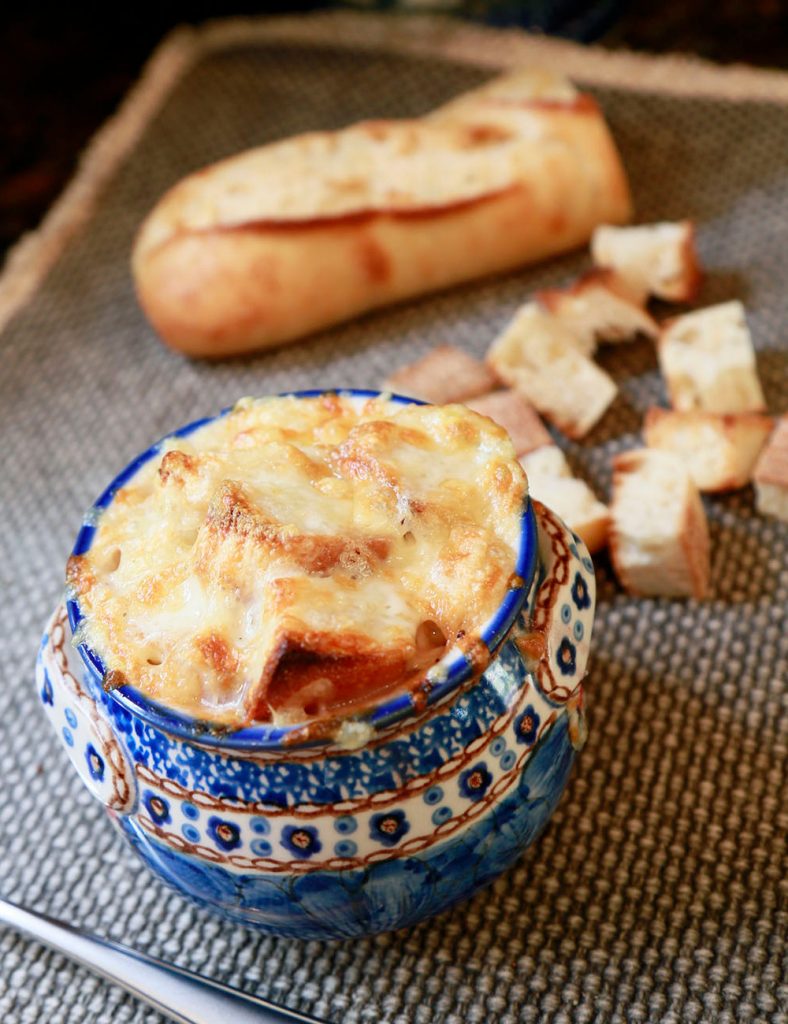 So I'm not sure if this actually qualifies as a true French onion soup but the addition of both wine and cream seems like a very "Frenchy" thing to do.
This is not an original recipe of mine but rather it's based on a recipe from Harrah's which is now closed. I've changed a few things on this but it's still very decadent and rich. This recipe makes two generous portions. You can easily double it. Just a quick word of warning…. the red wine will seemingly tint this soup to the purple side. It lessened as it baked but the taste is so good that it doesn't much matter.
This soup does not take long, maybe 45 minutes total with prep. You can also use pretty much whatever bread you have one hand and whatever cheese needs to be used up. It's not really a demanding dish but it is filling so it works great for lunch.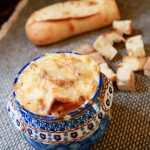 Creamy French Onion Soup
A rich creamy soup made with 5 kinds of onions and topped with heaps of cheese.
Ingredients
4

Tbsp

Butter

1

cup

White onion

Can be Spanish, Vidalia, doesn't matter

1

cup

Red Onion

1

cup

Leeks

1/4

cup

Shallot

2

Tbsp

Scallions, Divided

1/4

tsp

Dry Basil

1/4

tsp

Ground Black Pepper

1/4

cup

All Purpose Flour

2

cups

Beef Broth

1/4

cup

Red Wine

We used our go to wine for cooking, Meiomi

1/4

cup

Heavy Cream

1

cup

Cubed French Bread

Lightly toasted

1/2

cup

Shredded Cheese

We used Gruyere and Asiago, Swiss works well too
Instructions
Start by prepping your onions. I cut the onions into quarters and that length seemed good, Keep the thickness on the thin side, about 1/8".

Melt the butter in a medium size soup pot on medium heat. Add the onions, basil and pepper. The goal here is just to soften, not brown them. Stir often for approximately 7-8 minutes.

Sprinkle in the flour and stir for one minute. It should be a thick mixture at this point.

Add in the stock, wine and cream. Bring to a boil and then reduce to a simmer. Cover after about 2 minutes and let simmer on low. Stir often. Onions can burn easily so you want to make sure you are watching this. Continue to simmer for ten minutes. Turn the heat off and let sit, covered while you prep the rest of your dish.

Grate your cheese and put to the side.

Heat your broiler (we used the hi setting)

Cut your bread into about 1" cubes. Toast lightly. I would not add any oil or butter to this, just dry toast. The cheese brings plenty of fat to the table on this one.

Place your crocks on a cookie sheet and ladle the soup into crocks to about 3/4 full. Top with cubes of bread and then heaps of cheese. Place under the broiler for approx 5 minutes until your cheese begins to brown. Depending on your broiler this could take less than 5 minutes or more so stay close and keep an eye on things. When you see brown, remove them and top with the remaining scallions. Enjoy!